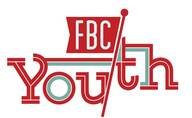 FBC Youth
At FBC Cranbrook it is our desire to engage with our youth in practices of spiritual formation through discipleship, relationships, Bible study and participation in church ministries.
Currently our youth ministry is geared towards youth in Grades 6 to 12.

FBC Youth Events
Kick-off Youth Event
Mark
Friday, September 27th from 6-8:30pm
in your calendars. FBC Youth will be having its first event of the new school year at the church house. All youth (grade 6-12) are invited to attend. There will be burgers and hot dogs and other food as well as some great activities. We will also be using the new Youth Room for the first time.
It is not essential that we know in advance how many are coming, but it sure helps. So if you know that your youth will be attending please
email Pastor Aaron
to let him know.
FBC Youth Sunday School
Our regular classes will be starting Sunday, September 29th. There will be a class during church (dismissed after the offering) for students grade 6-9.
Grades 10-12, I am offering a class before church, but I would like to know how many to expect. Could you please contact me by email or text to let me know if this is something that would be attended.
aaronh@fbccranbrook.org
or 250-919-7892